Hey all and welcome to our stop on The Twelve Days of New Adult Giveaway Hop!
I just adore New Adult books, there's just soooo many to choose from.
Here's my top 3 faves for this year, the first one I'd only just finished a day ago and am still recovering from it. A MUST READ!!!
November 9
by Colleen Hoover
This is a love story between a guy (me) and a girl (Fallon).
I think.
Can it even be considered a love story if it doesn't end with love?
Mysteries end when the mystery is solved.
Biographies end when the life story has been told.
Love stories should end with love, right?
Maybe I'm wrong, then. Maybe this isn't a love story. If you ask me…I'd say this might even be considered a tragedy.
Whatever it is—however it ends—I promised I would tell it. So without further ado.

Once upon a time…I met a girl.
THE girl.
This one just the synopsis had me one clicking it.
Number two is...
When I was Yours
by Samantha Towle
"Marry me."
"What?" I stared back at him, unblinking.
He moved closer, taking my face in his hands. "I love you, Evie. I look into the future, and the only thing I see clearly is you. Marry me."

What's an eighteen-year-old girl who was madly in love with her nineteen-year-old boyfriend say?

Of course, I said yes.

Twenty-four hours later, I married Adam Gunner at a Vegas chapel to the sounds of "Livin' on a Prayer" by Bon Jovi. Not the best omen. I get that now.

Then, exactly one week later, I left him. I walked out, leaving behind my wedding ring, annulment papers, and my heart, and he never knew why.

I haven't seen him since. Not in ten long years.

Now, he's here, standing before me. Looking at me with nothing but hurt and hatred in his eyes, he wants answers.

Answers I can't give.
My third choice is...

Bad Romeo
By Leisa Rayven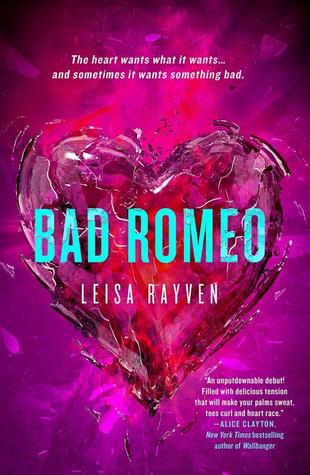 When Cassie Taylor met Ethan Holt at acting school, sparks flew. She was the good girl actress. He was the bad boy about campus. But one fated casting choice for Romeo and Juliet changed it all. Like the characters they were playing, Cassie and Ethan's romance seemed destined. Until he broke her heart and betrayed her trust. Now the A-list heartthrob is back in her life and turning her world around. One touch at a time.

Cast as romantic leads once again, they're forced to confront raw memories of the heartbreaking lows and pulse-pounding highs of their secret college affair. But they'll also discover that people who rub each other the wrong way often make the best sparks.
So these are my top 3 fave New Adult books for 2015.
So on with our giveaway. Today I'm giving one lucky winner a $20 Amazon gift card.
All you have to do to enter is fill in the raffleform below.

Giveaway is open internationally.


GOOD LUCK & HAPPY READING!!!